Getting prepared for a marathon is a difficult and thrilling experience but understanding how best to prepare yourself is something still up for debate. Marathons drastically differ based on the type, location and more so the preparation does change slightly. Regardless, here we list some basic guidelines to follow about everything related to a marathon, such as a training schedule, the recommended diet and what to bring for the big day.
What Training Schedule Should I Follow For A Marathon? 

Making a personal plan 
Before running a marathon, you need to prepare for about 16 to 24 weeks. Firstly, start making a plan that includes total running time, capacity, exercise schedule, and more.  

Start running 
Ensure that you run for about 30 minutes without a break every day, which is a minimum necessity for a marathon. Consider scheduling a long run (22 miles (35 km)) once a week. It is not necessary to run fast, so instead of focusing on your speed, try to run slower with steady breathing. 

Plan your week with short (3 to 4 miles (4.8 to 6.4 km)), medium (7 to 8 miles (11 to 13 km)), and long runs. Shifting the length of runs enhances your cardiovascular function. 
Do Exercise (strength training)  
Excessive running tends to harm your performance in the marathon. Do cross-training or low-impact workouts on the training days, which will increase your upper body strength. Some of the best activities that can be effective for marathon runners are yoga, weightlifting, and pilates. 

Stretching 
Make sure to stretch your muscles after taking long runs, which reduces the risk of cramps. It is better not to stretch before your run. Also, do not try bouncing stretches because they might hurt your muscles.
Apply ice packs 
If you feel muscle ache or soreness, it is best to keep ice packs on your legs, feet, and knees for at least 6 to 12 minutes. By keeping ice on the spots that are sore, it will help decrease the pain while also decreasing the swelling or bruising in that area. 

What diet should I follow before the marathon? 
Firstly, you must stay hydrated during the run. While preparing, you want to drink a minimum of 8 glasses (240 mL) of water in 20 minutes. However, do not drink too much water because you might get hyponatremia. Drinking water excessively tends to dilute your blood which makes your cells swell. 

Generally, when you prepare for a marathon, complex carbohydrates must be 60 to 65% of your total food diet. You should eat complex carbohydrate-rich foods such as apples, bread, rice, and other starchy vegetables. During your run, make sure to eat carbohydrate gels once every 30 to 45 minutes. 

You need to eat 15 to 20% protein while training. Some protein-rich foods are eggs, chicken, lean beef, fish, legumes, and dairy. In order to avoid fractures, it is suggested to take calcium supplements or consume high calcium foods such as milk, broccoli, cottage cheese, collard greens, and salmon.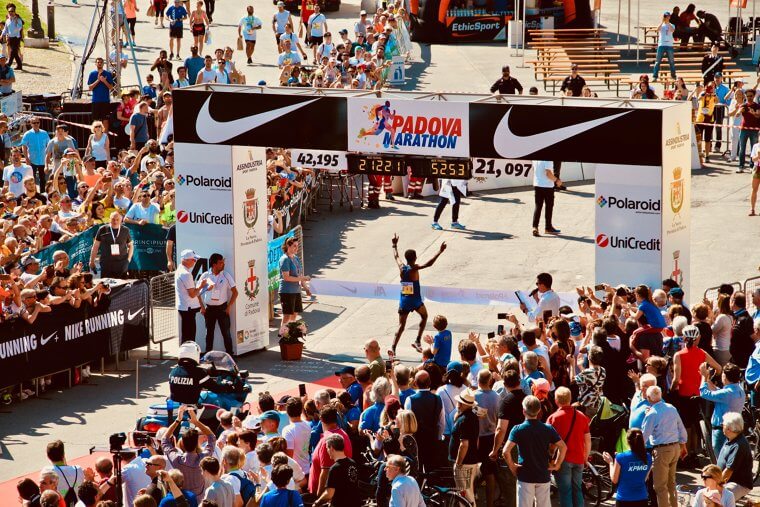 What Should One Pack Before The Marathon? 
Pack the clothes you will wear. Do not choose a new set of clothing because it might irritate your skin. Pack the shoes that you wore during your training. Wearing new shoes in the marathon can cause blisters to your toes. 

Pack all the essential things in your bag, such as extra shoelaces, a dry shirt, extra pair of socks, moisturizing cream, tissue, ointments for blisters, and other things that you might need.  

Our Verdict 
If you want to take part in a long marathon, you need to work hard and be dedicated. Make sure to follow the above things so you can come prepared and complete the marathon with ease.